Read Time:
7 Minute, 35 Second
by Ritchie Slack (@Slack_9)
'You have to be creative and we try to be creative. We try to find solutions internally. And there is still a lot to come. We have three or four players who can make big, big steps' – Jurgen Klopp, Monday 29th June 2020.
To most Liverpool fans, these are rather harrowing words. Why? Well, the reason is this: they imply that Liverpool will not be spending money when the transfer window reopens – for the second summer running.
After Liverpool won the Champions League for the sixth time in 2019 the Reds brought in Harvey Elliot from Fulham and Taki Minamino (in January) for a combined (tribunal pending on the former) £8.25m. Like many others, this humble writer was begging for one of Nicolas Pepe or Memphis Depay to come in and bolster our attack; for Koulibaly to come in and play alongside Van Dijk. But, alas, it was not to be…
Fast-forward one year and the Reds are 'back on their perch' as champions of England, Europe, the world… perhaps we didn't need a marquee signing last summer after all?
Curtis Jones
Homegrown in the centre of Liverpool, the 19-year-old has featured sporadically for the Reds this season. And he could not have wished for a better start to life at Anfield than when he scored a (winning) goal any global superstar would be proud of against Everton in the FA Cup. He certainly earned our affection.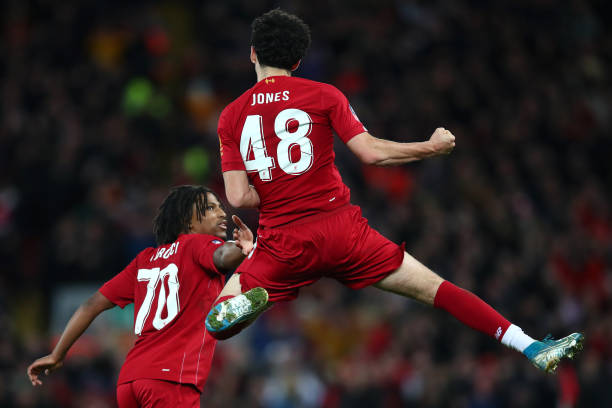 Jones featured in cup competitions throughout the season and showed glimpses of what he is capable of; an attack-minded player with a great work ethic off the ball is something that Klopp would purr at, to add to that he has shown he has a fearless and confident approach to the game, he then got our attention.
Since winning the league the England U19 starlet has featured for The Reds four times – he is just one appearance away from a PL medal, one that he will surely achieve.
Burst Onto The Scene
He has taken opponents by storm with his dazzling dribbling, the ruthless relentless pressing, and of course his keen eye for the net. Against Aston Villa he took his chance off the bench and made an immediate impact by putting the game beyond doubt when he scored the second goal in a 2-0 win, but more impressively his performance against a frustrating 1-1 draw with Burnley has solidified him as a potential main event player. The Burnley defence and midfield certainly breathed easier when his free-roaming attacking position came to an end upon his substitution, if that was a taste of things to come, we are fated to witness euphoria with Curtis Jones.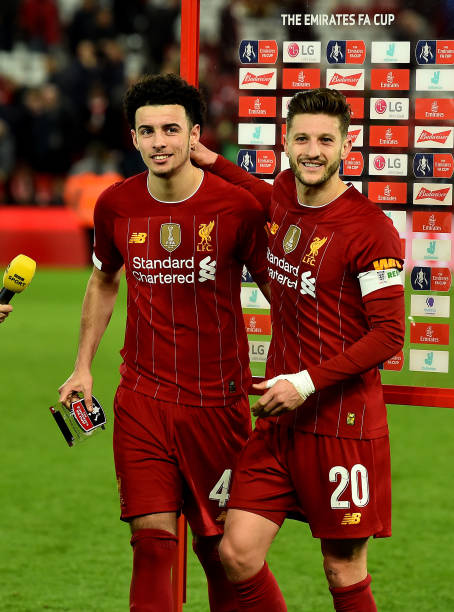 With long serving Adam Lallana leaving at the end of the season, a space opens up in Klopp's midfield, but the versatility of Jones could even see him play higher than that, perhaps in the attack if needed too. Although the likes of Keita and Oxlade-Chamberlain are perhaps above him in the pecking order in terms of attacking midfielders at present, you have to wonder how long it will be until Curtis Jones, the Liverpool player since aged 9, becomes the next scouse hero.
Jones has sparkled in his appearances, he has the ability, the attitude and the desire to play for Liverpool FC, and from what fans, staff and players have seen of him so far, the best is yet to come. The internal transfer of this versatile midfielder/attack has Liverpool fans and staff salivating at this exhilarating prodigy.
Neco Williams
Born in Wrexham in 2001, the Welsh wizard Neco Williams joined Liverpool at the age of 6 and has enjoyed a brief stint in the Liverpool first team since the restart of the season.
Starting in Liverpool's thrilling 5-5 draw against Arsenal, Williams recorded a last-minute assist to Divock Origi's wonderfully dramatic late equaliser, whipping in a cross that TAA or Robertson would have been proud of.
24th June 2020, Neco Williams came off the bench to make his PL debut in the 4-0 win over Crystal Palace, showing a desperate yearning to attack, cross, shoot and defend. Klopp knows he has a potential star in the making and a versatile one at that. Williams made his first full start on the opposite flank as a left back, and the battle he was betrothed in with Lamptey was enticing and enthralling.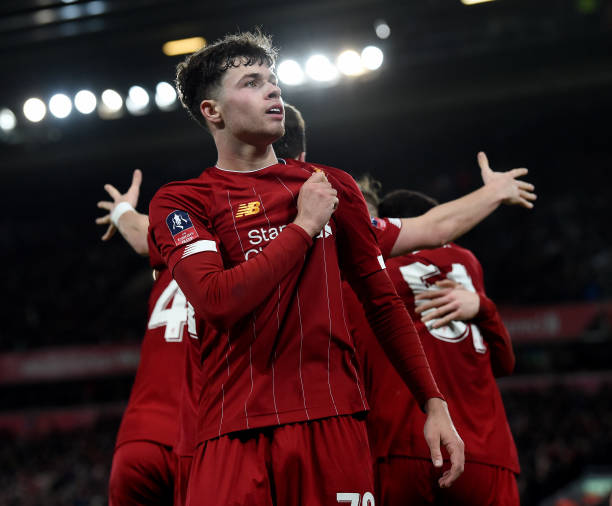 Although on the side less natural to him, Williams shone going forwards without trepidation or anxiety, taking on players in the Brighton team and linking well with his Liverpool team mates. Williams performance was not without critics, he was booked and at times perhaps tried too hard (as you would expect) but his resilience and manner were encouraging to witness.
When looking at Williams the obvious question is where he fits in when Liverpool perhaps boast the best two full backs in world football; yet if Williams can cover both full back positions he may find himself more game time than he could have ever dreamed of this time last year. The internal transfer of a right and left back in Williams is one to keep your eyes on.
Harvey Elliott
The charismatic enigma: a Liverpool fan from a young age Harvey Elliott is touted as the future star of his boyhood club, with ability shining brighter than the sun, Elliott offers a potential world class attacking option for many years to come. Labelled by our skipper Jordan Henderson as 'frightening' he is the youngest player to ever play in the PL at 16 years of age, he has trickery, pace and confidence of the highest order.
Making his competitive debut for Liverpool in September 2019 in a League Cup clash against MK Dons he broke the club record of becoming the youngest player to feature in a competitive match, and he certainly made the Liverpool faithful sit up a little straighter in their seats when he was on the ball.
The England U17 youngster famously rejected the chance to meet the iconic Sergio Ramos when the mighty Real Madrid attempted to sign him because 'he didn't like what he did to Salah' in the 2018 CL final. Elliott certainly has morality on his side too, a trait his manager will adore.
Klopp has already spoken of his admiration of the problematic winger, hailing his attitude, enthusiasm, bravery and confidence (oh, and cheekiness!) but once more Elliott has the best front three in the world ahead of him, so continuing to learn at Melwood/Kirby under Salah, Mane and Firmino will do him no harm at all. Coupling that with the world class coaching staff guiding him, Elliott could be that internal attacking transfer to act as cover for the front three until he is ready to flourish under the guidance of Klopp.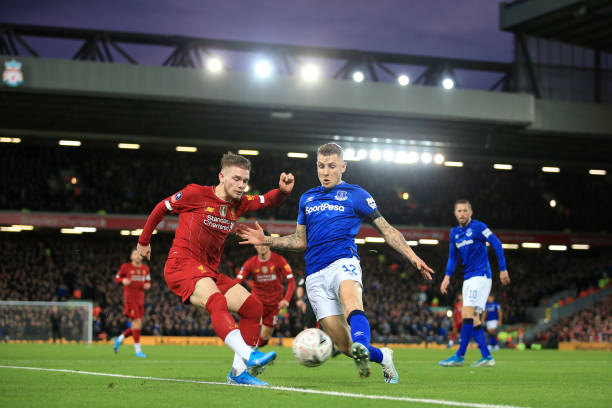 Get excited, the enigma is here.
Ki-Jana Hoever
The Dutch defender who scored a bulleting header to break MK Dons hearts really announced himself on to the scene by becoming the 4th youngest ever goal scorer for the club (only behind Woodburn, Owen and Rossiter).
Although goalscoring is perhaps not Hoever's forte, it will certainly help alongside the skills he attributes; Hoever's pacey, assured, intelligent displays has shown in his limited game time for The Reds, is a reason to take notice.
The U18 Dutch player has played at right back for Liverpool, but also featured in January 2019 as centre back by replacing an injured Dejan Lovren in an FA Cup tie against Wolves in the opening minutes. Hoever looked as though he was destined to play at the top level with his coolness and quick thining. Is it a sign then of things to come, that Hoever replaced Lovren in the team in 2019, is it his destiny to do the same in the 2020/21 season with Lovren's future an uncertainty?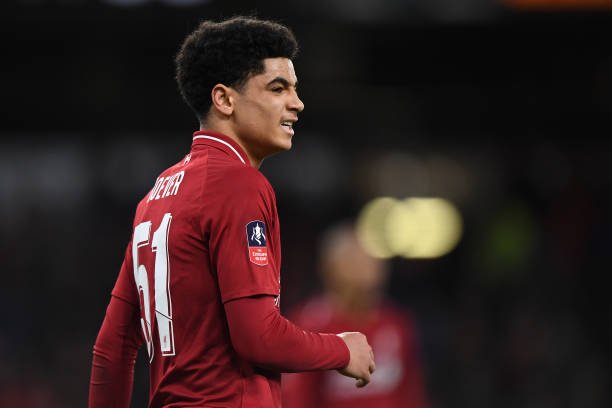 With Van Dijk, Gomez and Matip ahead of Hoever, it relieves any pressure for the youngster to be exerted into the team and allows him time to learn from the supreme CB, his Dutch counterpart Virgil Van Dijk.
The internal transfer of Hoever at CB could potentially solve the hole that Lovren currently occupies and could cement himself as a future star for the oncoming decades.
For these youngsters the greatest test lay ahead of them and like many prospects touted for the top, they have to show the mindset and mentality along with the ability they possess, or else fall away into obscurity.
The time for annoyance, gloom and irritation surrounding Liverpool's lack of transfer activity is perhaps not as dark as it once seemed; with these young, riveting, captivating and absorbing players the future of internal transfers may just prove the best outcome possible, providing a brighter light than any other option could have.
Either way it shall end in tears: as such things always do.